I was very humbled by the amount of support that the 
Kickstarter for Honey Wars
 received. Leading up to this, Honey Wars won the 2015 Gamehole Con Design Award (The Rodney) for the "Take That" contest hosted on
The Game Crafter
 (TGC) and judged by the folks over at
All Us Geeks
. This also secured me a spot in TGC's Hall of Fame!
One of the questions that TGC asked when conducting the interview for my Hall of Fame induction was,
"Did you create a design journal for your game? If so, did you publish it somewhere we can link to?"
When designing Honey Wars, documenting the process wasn't something I really thought to do, frankly because I wasn't sure that anyone would be terribly interested (and that might still be the case). No matter, I've decided to document the process of one of the
upcoming titles for Gold Seal Games -
10 Minute Task Force
.

What is 10 Minute Task Force?
I haven't worked out the polished "elevator pitch" 
quite yet, but the gist of the game is:
Players each take on one of the trope roles of a heist or spy film (Muscle, Face, Thief, Hacker). They've been hand-selected to go on a covert mission to break into the headquarters of an evil corporation. They have exactly 10 minutes to get in, accomplish their mission and get out.
10MTF is Real-time: Each game will last no longer than 10 minutes.
10MTF is Co-op: Players will cooperate to achieve a common goal. Each role will be better at one particular type of task, and some tasks can only be completed by certain players. Everyone wins by completing the mission within the allotted time, or everyone loses.
10MTF is thematic and immersive:  There are run-ins with security guards. Players are frantically rolling dice and managing their own personal timers (to simulate the need for perfect timing on a mission). There is a soundtrack. And you know in all the films how the heroes have to watch for patterns and wait for the cameras to pan away before they make their move? The dice mechanics simulate that.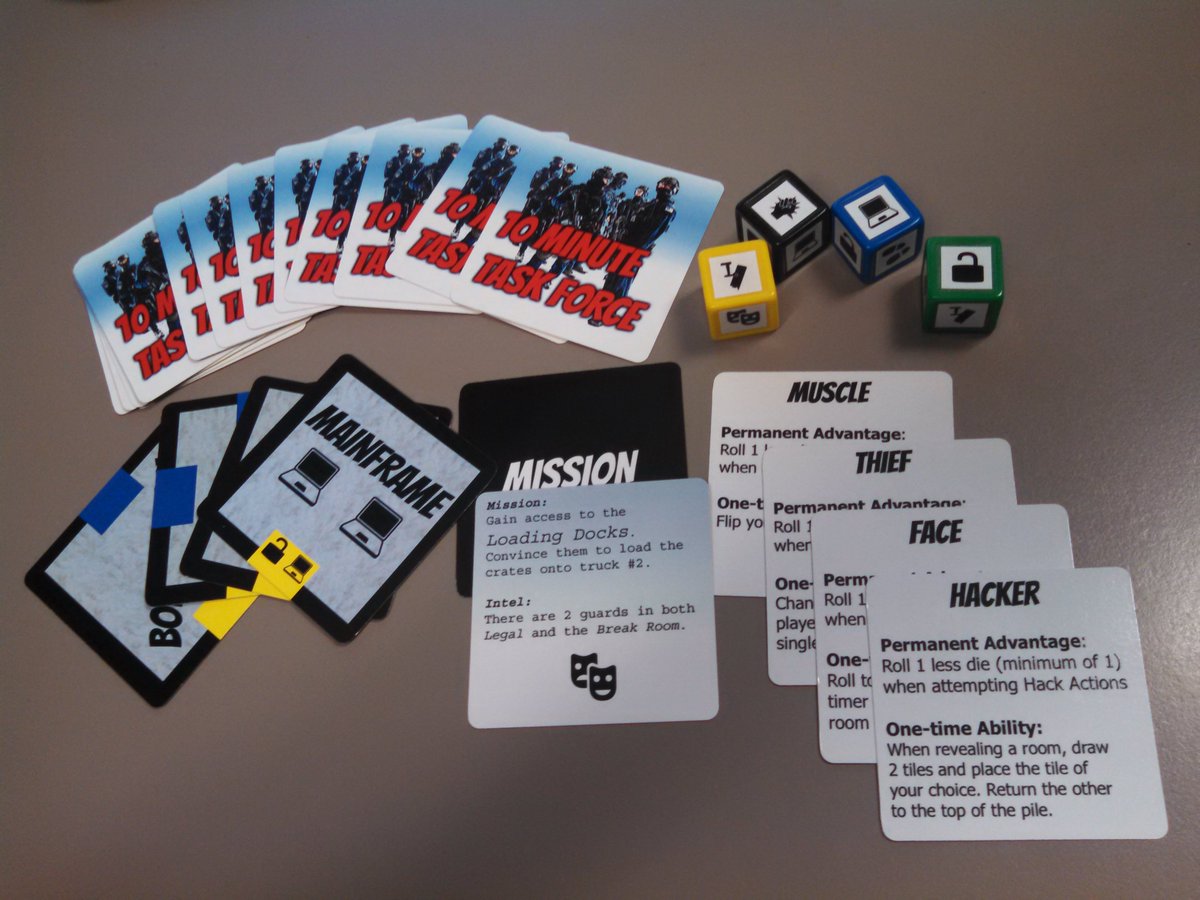 So far, I've had 

official

 play tests at
I'll be posting the original rules along with the feedback I got from these events in my next post, and walk through how that feedback was translated into changes in the rules.
Until next time, 
Andrew